1990's -
UNISPAL: The Internet Machine
1977 -
The UN Division on Palestinian Rights
The only UN secretariat division devoted to a single group of people.
1975 -
The Committee on the Exercise
of the Inalienable Rights of
the Palestinian People
The only UN standing inter-governmental committee devoted to a single group of people. This Committee was created on the very same day as the UN General Assembly adopted the infamous Resolution 3379 (XXX) of November 10, 1975 which said Zionism is racism. While Resolution 3379 was rescinded, Resolution 3376 creating the Committee dedicated to propagating this message, was not.
1993 -
The UN Special Rapporteur
on the situation of human rights
in the Palestinian territories
occupied since 1967
"a distinction must be drawn between acts of mindless terror...and acts committed in the course of a war of national liberation." Palestinian violence is the second kind ... analogous to "the German occupation resisted by European countries in the Second World War." John Dugard, Human Rights Council, June 16, 2008
The only UN special rapporteur with a permanent mandate.
1949 -
The United Nations Relief and Works Agency for Palestine Refugees in the Near East (UNRWA)
There is one UN refugee agency just for Palestinian refugees. And one refugee agency assisting 59 million people (2017) in the rest of the world.
UNRWA labels Palestinians "refugees" who are "the descendants of the original Palestine refugees."
UNHCR requires refugees to be those with "a well-founded fear of being persecuted for reasons of race, religion, nationality, membership of a particular social group or political opinion."
1968 -
Special Committee to Investigate Israeli Practices Affecting the Human Rights of the Palestinian People and Other Arabs of the Occupied Territories
The only UN "human rights" committee composed of members representing states - with no claim to be independent experts.
The Special Committee is under the jurisdiction of the UN Office of the High Commissioner for Human Rights.
1970-2005
The UN Commission on Human Rights
Agenda
The only country targeted by a specific agenda item of the UN's top human rights body for 35 years: Israel
2006 -
The UN Human Rights Council
Agenda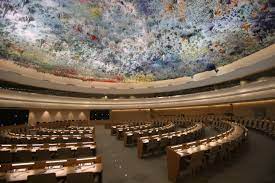 There is one permanent agenda item on Israel and one permanent agenda item for all other 192 UN member states.
1994 -
The Office of the UN High Commissioner for Human Rights
The UN High Commissioner for Human Rights, Volker Türk, presides over a human rights empire which is highly selective. The OHCHR website created to gather and disseminate anti-Israel propaganda grows daily.